2017 Montorno Instructors
Register before January 15 to save $150!
Judy Southerland
(June 22–July 4, 2017)
Independent Study
Arrive: Thur, June 22, 2017 – Depart: Tues, July 4, 2017
Judy Southerland is an artist living and working in Washington DC. Her 2016 solo exhibition, History Painting for a Small Town, was at Studio Gallery in the city and was well reviewed in the Washington Post. Southerland has received three individual artist fellowships from the DC Commission on the Arts and Humanities and has work in public and private collections in the US, England, Italy, France and Singapore. Judy taught fine arts at The Corcoran College of Art + Design for 22 years and has been an instructor at Montorno since 2003.
Contact Judy. Visit Judy's website.
Info and registration form PDF
Danni Dawson & Mike Francis
(July 10–22, 2017)
Painting & Bas-relief
Arrive: Mon, July 10, 2017 – Depart: Sat, July 22, 2017
Danni Dawson received her B.A. and M.F.A. degrees from George Washington University and apprenticed with Nelson Shanks. A professional artist and teacher for over 25 years, Danni has exhibited her paintings nationally and internationally, and has received many awards including the Allied Artist Award, the Salmagundi Painting Prize, The Audubon Award and an Award for Painting from The National Academy of Art and Design. Her work has also been featured in American Artist, most recently in the Winter 2007 issue of American Artist Workshop article "Danni Dawson: Helping Still Life Painters Find an Individual Voice." With over 300 portraits to her credit, Danni Dawson has painted heads of state, dignitaries, and university officials as well as senior members of the military and medical communities. Her portraits and still life paintings are displayed in collections throughout the world. Contact Danni and visit Danni's website.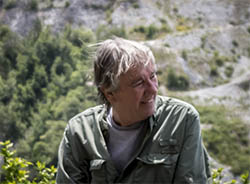 Mike Francis studied at the Corcoran School of Art, received his BFA from the Maryland Institute College of Art, and his MFA from George Washington University. Teaching experience includes the Art League School (1978 to present), George Washington University (20 years), George Mason University, Trinity College, Northern Virginia Community College, Prince George's Community College, and Charles County Community College. In addition, he has taught abroad through the auspices of various institutions in Paris, Brittany, Spain, Greece, Italy, and Ireland. Mike has had twenty solo exhibitions in the last twenty-six years, and participated in hundreds of group efforts. Many of these events were reviewed in various media. He has received several awards, including the Virginia Prize for Painting and the David Lloyd Kresge Award. Contact Mike. Visit Mike's website.
Info and registration form PDF
Private Painting Retreat
(July 25–August 1, 2017)
(By invitation only)
Arrive: Tues, July 25, 2017 – Depart: Tues, August 1, 2017
For more information, contact Judy Morse, Montorno Workshops Coordinator at judym@montorno.com.
Info and registration form PDF
Trisha Adams
(August 5–12, 2017)
Plein Air in Sunny Tuscany
Arrive: Sat, August 5, 2017 – Depart: Sat, August 12, 2017
Trisha Adams was a graphic designer for 18 years before becoming a painter in 2001. She's known for her use of color and her slightly abstracted, representational style. Landscapes and outdoor vignettes, such as windows and doorways, are favorite subjects. When she's not traveling, you'll find her in her studio in the sleepy town of Orange, VA.
Trisha concisely presents key painting principals to achieve "light bulb" moments. Her teaching style is patient and supportive. Although she has taught workshops as far away as Australia, she now teaches mostly in her favorite places of Virginia, Beaufort, NC, San Miguel de Allende, Mexico and here in Tuscany.
Trisha's paintings have appeared on the sets of "Madam Secretary" and the Oprah Winfrey series "Greeleaf." Collections holding her work include the Ritz-Carlton, the Winchester Medical Center, SAS Institute and the Virginia State Senate. She is a member of the 100-year-old, Washington Society of Landscape Painters. Contact Trisha. Visit Trisha's website.
Info and registration form PDF
Heather Sink
(August 15–22, 2017)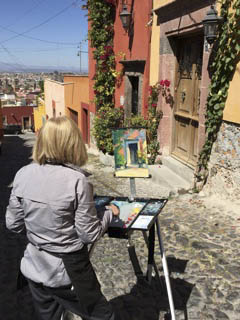 Painting the Tuscan Landscape
Arrive: Tues, August 15, 2017 – Depart: Tues, August 22, 2017
Heather Sink was born in northern England. She's always had a passion for the arts and enjoyed painting still life and landscapes in watercolor growing up. As an adult, she worked and traveled all over Europe taking in the diverse sights and cultures. She earned a Fine Arts and Education Degree from Meredith College in Raleigh, NC. Heather taught art in the North Carolina public schools for many years, as well as Jordan Art Center. Now, Heather has a gallery/studio in Beaufort, NC, called Craving Art Studio where she paints, teaches classes, and hosts visiting artists workshops.

The subjects which draw Heather are mostly vignettes of the coastal area of her beloved Beaufort, North Carolina. Abstract painting and mixed media are avenues she is exploring. She strives for her work to connect with the viewer in a personal way and on an emotional level. Heather is a board member of the Arts Council of Carteret County, an artist member with the Visual Art Exchange and a member of the North Carolina Museum of Art. Contact Heather. Visit Heather's website.
Info and registration form PDF