2018 Montorno Instructors
Register before January 15 to save $150!
Heather Sink
(June 11-18, 2018)
Painting the Tuscan Landscape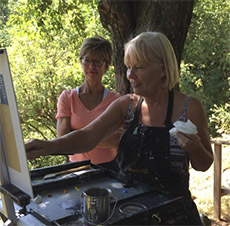 Arrive: Mon, June 11, 2018 – Depart: Mon, June 18, 2018
Heather Sink was born in northern England. She's always had a passion for the arts and enjoyed painting still life and landscapes in watercolor growing up. As an adult, she worked and traveled all over Europe taking in the diverse sights and cultures. She earned a Fine Arts and Education Degree from Meredith College in Raleigh, NC. Heather taught art in the North Carolina public schools for many years, as well as Jordan Art Center.
Now, Heather has a gallery/studio in Beaufort, NC, called Craving Art Studio where she paints, teaches classes, and hosts visiting artists workshops. The subjects which draw Heather are mostly vignettes of the coastal area of her beloved Beaufort, North Carolina. Abstract painting and mixed media are avenues she is exploring. She strives for her work to connect with the viewer in a personal way and on an emotional level. Heather is a board member of the Arts Council of Carteret County, an artist member with the Visual Art Exchange and a member of the North Carolina Museum of Art.
Heather. Visit Heather's website.
Info and registration form PDF
Danni Dawson & Mike Francis
(June 22-July 4, 2018)
Painting & Bas-Relief
Arrive: Fri, June 22, 2018 – Depart: Wed, July 4, 2018
Danni Dawson received her B.A. and M.F.A. degrees from George Washington University and apprenticed with Nelson Shanks. A professional artist and teacher for over 25 years, Danni has exhibited her paintings nationally and internationally, and has received many awards including the Allied Artist Award, the Salmagundi Painting Prize, The Audubon Award and an Award for Painting from The National Academy of Art and Design. Her work has also been featured in American Artist, most recently in the Winter 2007 issue of American Artist Workshop article "Danni Dawson: Helping Still Life Painters Find an Individual Voice." With over 300 portraits to her credit, Danni Dawson has painted heads of state, dignitaries, and university officials as well as senior members of the military and medical communities. Her portraits and still life paintings are displayed in collections throughout the world.
Contact Danni and visit Danni's website.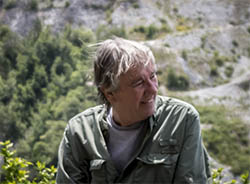 Mike Francis studied at the Corcoran School of Art, received his BFA from the Maryland Institute College of Art, and his MFA from George Washington University. Teaching experience includes the Art League School (1978 to present), George Washington University (20 years), George Mason University, Trinity College, Northern Virginia Community College, Prince George's Community College, and Charles County Community College. In addition, he has taught abroad through the auspices of various institutions in Paris, Brittany, Spain, Greece, Italy, and Ireland. Mike has had twenty solo exhibitions in the last twenty-six years, and participated in hundreds of group efforts. Many of these events were reviewed in various media. He has received several awards, including the Virginia Prize for Painting and the David Lloyd Kresge Award.
Contact Mike. Visit Mike's website.
Info and registration form PDF
Mary Del Popolo & Maria Karametou
(July 8-28, 2018)
George Mason University (3 credits)
Arrive: Sun, July 8, 2018 – Depart: Sat. July 28, 2018
For more information, contact Judy Morse, Montorno Workshops Coordinator at judym@montorno.com.
Angela Nesbit
(August 3-10, 2018)
Painting Light & Color in Tuscany: The Impressionists' Way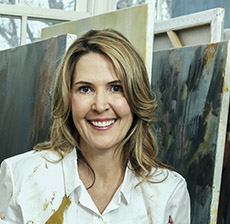 Arrive: Fri, August 3, 2018 – Depart: Fri, August 10, 2018
Angela Nesbit effortlessly captures light, movement, and texture. Recognized for her unique style, she uses a brush and palette knife to build energetic layers of paint on the canvas. Angela's subjects often walk a fine line between abstraction and reality. Settled amid thick layers of paint, her simple subjects wander softly in and out of the background.
Angela received a B.A. from the University of North Carolina at Chapel Hill and studied classical drawing and painting at Queens University and Spirit Square Center for the Arts in Charlotte, NC. She has studied intensively with Andy Braitman of Charlotte since 2000. She has also studied with many nationally recognized artists. Angela is represented at galleries throughout the United States and her work is in both corporate and private collections nationally.
More about Angela can be found on her website.
Contact Angela. Visit Angela's website.
Info and registration form PDF
Adrienne Wyman
(August 14-21, 2018)
Methods of the Masters at Montorno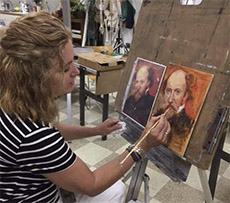 Arrive: Tues, August 14, 2018 – Depart: Tues, August 21, 2018
Adrienne Wyman is a DC-area artist with a global perspective: finding inspiration in the commonalities and differences across cultures around the world. She is accomplished oil painter, teacher, and exhibiting artist best known for: lifelike portraits, intimate mother and child scenes, and vibrant African markets. She is passionate about art history and the lessons that can be learned from the lives of the world's great artists.
Adrienne teaches classes and workshops combining hands-on painting with lectures and museum tours, on artists from the Old Masters through Post-Impressionists in the DC area and in Europe. Adrienne currently teaches oil painting at The Smithsonian Associates, lectures on art history at Montgomery College and teaches Visual Art at Blyth Templeton Academy in Washington, DC.
She received her B.F.A. in Graphic Design and Art History from Auburn University, and studied Masters Level courses at the Art Institute of Chicago. She received her World Art History Certification from Smithsonian Associates in winter, 2017.

Contact Adrienne. Visit Adrienne's website.
Info and registration form PDF