Welcome to Montorno!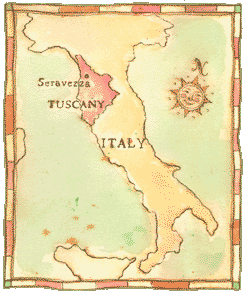 Stimulate your creativity at Montorno and the rustic, restored centuries-old house belinging to the Poli family for generations. Montorno is surrounded by spectacular views of marble quarries, chestnut forests, terraced vineyards, olive groves, and lush green valleys leading to the Mediterranean Sea. And enjoy exquisite lunches and dinners, specially prepared by our chef during each day of the workshop's sessions.
The picturesque village of Seravezza is nestled in a valley in the Apuane Alps in north-western Tuscany, only a few miles from the Mediterranean Sea. Seravezza is home to a Medici summer palace dating from the mid-1500s, which now houses a museum featuring exhibits documenting the rich history of extraction and workmanship of the area's marble, some known to be used by the master Michelangelo himself.
In Seravezza, students will become acquainted with the delights of small-town Italy, and can enjoy an espresso, or glass of wine or beer with the local residents in one of the many cafes. Each Monday in Seravezza, the open air market attracts shoppers from neighboring towns in search of fresh produce, meat and cheese, clothing and various other items.